Saturday morning I bought three pounds of peaches from the farmers' market. They weren't quite ripe so they sat in brown paper bags preparing themselves for their destiny. This morning I blanched and peeled them, thinking of my friend Rusty who has been craving peach pie for about a week now.
Peaches, peeled and diced, coated in lemon juice, flour, sugar, cinnamon and nutmeg.
The peach pies I'm making today are Jars of Pie, a little project I'm developing in my spare time.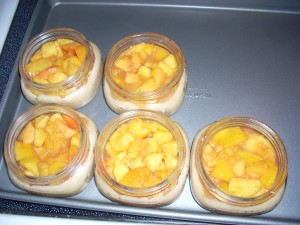 Here are the sinful little guys just before getting their crumb topping and going into the oven. Can I tell you what they smell like while they're baking?
No?
It's really just not right, or fair to do this to you.
One more look then I'll stop.
They just came out of the oven and are all bubbly hot goodness.
Want one? I'm giving a Jar of Pie away over here.
Don't hate me for torturing you.
Love,
The Pie Lady