This year, I had one really spectacularly brilliant idea. Offer to buy the whole family snarky tee shirts to get them to appear in a holiday photo together. Well, it seemed like a good idea at the time, anyway. Not only that, but it WORKED. See the above version, avec Wheaten, as proof. The shirts say "Meh" in case you're having trouble seeing them. Follows are the complete results of our photo shoot.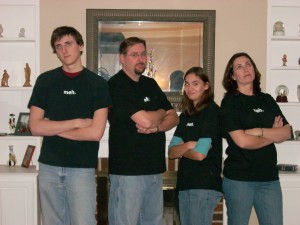 In case you don't know, "meh" is the epitome of apathy. It is what one says when one just doesn't care. Since this sums up my family's overall feeling about the posing for photos, about wearing (all of us) the same shirt, and about, (sometimes) the whole dang holiday season. (Well, mostly we feign indifference to the season. We totally love it.) Â In this try for the holiday card shot, we tried to look disaffected. The girl couldn't stop smiling, though and Mark just looks like a tough guy.
Here the girl is attempting to provide a little direction. As the resident teenager, apathy is her focus area, after all.
 
 
 
 
 
 
In this shot, the girls are CRACKING UP at the guys. You can glimpse in this version, in the mirror above the fireplace, the photographer at work. Special thanks to the allergist's daughter, who served as family photog for the Meh Photoshoot.
 
 
 
 
 
 
Here, we almost have it — but Mark and I just look sad, and there's some kind of flash spot in front of the girl. Reject.
Now we're all getting tired of being photographed. And darn that girl. She won't stop smiling! Mostly because she finds the whole thing hilarious. Some meh attitude on that one, eh?
Finally, a shot suitable for sharing with friends and family, about 50 percent of which at this time have asked, "What is the 'meh' all about, anyway?" Yes, we're smiling, but that's what makes the overall effect a bit better I think. Have a little irony with your holiday cheer. And Meh-rry Christmas from the Jaggers family.