I haven't had a haircut since something like April. I want to go see Heidi, but her schedule doesn't mesh well with mine, so I've been putting off making an appointment.
A review of past hairstyles: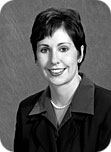 Here I am in 2001 or somewhere thereabouts. I had short hair for the shortest time of any hairstyle. I loved how easy it was; never frizzy, took about five minutes to style. My husband hated it and pointed out what I'd been hearing a lot: women loved it; men hated it. 'Nuff said.
With this hair, my sisters and I had a Christmas photo taken. We each had a copy. The sister who is 13 years older than I am had the photo on her desk at work. Her boss picked it up and asked if I was the oldest sister. I started growing it out the very next day.

Here's the hair, circa 2003. Sad to say, I think I look pretty much just like this right now. I guess I should be glad that I don't look much older four years later, a period that included two job changes, teaching a teenager to drive and making a cross-country move. This is what happens to my hair with a long-term lack of attention.
While the photos of me with a giant perm and mall bangs would have you clutching your stomach and rolling on the floor, they haven't been scanned (and God willing, never will be) and therefore won't be shared with you, dear Internet.
Here I am with my sisters in 2005. This is not an accurate representation of the three of us. I am wearing flats. They are wearing heels. And I know what you're thinking; you have a blonde sister?! Here's the deal; she lives in Florida. Everyone has blond hair in Florida. Go ahead. Tell me who's the oldest! It better not be me.
Here's another shot from the same day with my mom. Do I look like her?
 
 
 
 
 
 
 
 
 
In 2004 we took a ski trip with our buddy Dave. When you're skiing, it's entirely appropriate to a) not wear any makeup whatsoever and b) sport little girl hairdos. Here I am, with rock star Dave, in Marcia Brady-inspired long pigtails.
 
 
 
 
 
 
 
 
 
In early 2006 I cut my hair semi-short again — not, you know, alternative lifestyle short, but short.
I like this hair, uh, on me, not the dog. His is unruly and curly. Mine was short enough to wear straight (ha! no pun intended) successfully. The thing about having longer hair is that I can wear it up, but I'm not that creative with that so it's not much worth it.
So, yeah. I need a haircut.