Our new puppy has arrived.
We have named her Starbuck. Of course, there's the obvious coffee megabrand, but that's not really where the name comes from.
Battlestar Galactica fans will know the other blonde, female Starbuck.
The original Starbuck was the first mate to Captain Ahab on the whaling ship the Pequod in Moby Dick.
Yes, we're geeks.
Without further ado, and naming explanations, here is our new puppy, the Whoodle (Wheaten Terrier/Poodle mix) Starbuck.
Clover is not too thrilled with this new development. He's trying to ignore  his new little sister as much as possible. If she enters a room, he leaves it. If she tries to get him to play, he runs in the other direction. It's pretty funny to watch him be chased by a tiny puppy.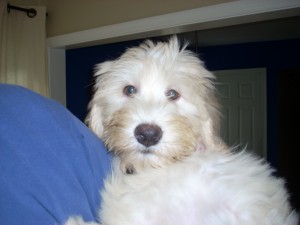 We're awash in a sea of cute right now. She has a long tail which she wags in a slow, lazy way that makes me think of Southern women and afternoons on verandahs. Her eyelashes are outrageously long and her hair (it's hair, not fur; she does not shed) is in a permanent state of bedhead. She's been a very good dog so far; no accidents and training is going very well. She didn't even cry the first night and has really started to warm up to everyone in the family.
Now, if she can just get that Clover guy to pay her some attention.